Ray Patel, president of the Northeast Los Angeles Hotel Owners Association, visited "Fox and Friends Weekend" to talk about the policy's potential dangers.
NEW Fox News articles can now be heard on audio! Voters in Los Angeles will decide whether to support a measure that would potentially require hotels to lodge the homeless, a policy that many hotel owners fear will have an adverse effect on public safety.
Ray Patel, president of the Northeast Los Angeles Hotel Owners Association, appeared on "Fox and Friends Weekend" on Sunday to talk about why he worries the policy won't be implemented and why it isn't a long-term fix.
Patel informed co-host Carley Shimkus that this was only a temporary remedy and not a long-term fix. "They also accommodated the homeless during Project Roomkey, a magnificent example, but the government never offered a permanent answer. They never offered transitional services to permanent housing, thus the current situation cannot be solved by merely distributing hotel vouchers, which would negatively affect our hotels' ability to advertise their rooms to locals, business travelers, and tourists who are in need of pain relief."
Patel praised the COVID-era initiative that helped the homeless find housing, but he also expressed concern about how the policy might affect public safety as crime continues to outgrow control.
Patel emphasized that many visitors have not yet checked in by that time, despite the voucher program's requirement that hotels transmit information on their open rooms for the day by 2 PM daily if it were to be approved.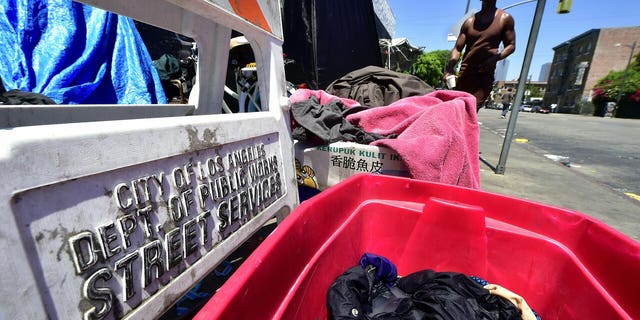 General Dogan, who was born and raised on Skid Row in downtown Los Angeles, passes by tents and clothing as he strolls by. (Photo by Fred J. Brown/AFP via Getty Images)
When asked to combine the numbers of paying guests with those who would receive hotel vouchers from the city, Patel responded, "That just doesn't make sense because at 2 PM people are barely checking into the hotels.
The safety of our visitors, employees, and neighbors who live close to the business neighborhoods is also of utmost importance to us, he added.
Although the homeless dilemma has been a long-standing problem in Los Angeles, it has gotten worse in many cities around the country since the pandemic started.
Over 66,000 people were homeless in 2020, the L.A. Homeless Services Authority reports, a 12% rise over 2019.
The administration, in my opinion, ought to have settled this issue a long time ago, Patel added. It has become political, and you'll hear this from all the homeless advocacy groups as well, looking for housing for the unhoused, as they appear to be taking up as a theme when politicians are competing for office – but there is no solution offered.