Three White men are found guilty by a federal jury of murdering Ahmaud Arbery.
NEW Fox News articles can now be heard on audio! Just months after receiving life sentences for state murder charges, the first of three White men who hunted and killed Ahmaud Arbery in a Georgia neighborhood in 2020 was sentenced to life in prison on Monday for perpetrating a federal hate crime.
The first of the three defendants to get a sentence on Monday was Travis McMichael, who used a shotgun to kill Arbery following a street chase started by his father and joined by a neighbor. Judge Lisa Godbey Wood of the U.S. District Court set up back-to-back hearings to punish each defendant separately. Hearings for William "Roddie" Bryan, Travis' neighbor, and his father, Greg McMichael, followed.
Arbery's killing on Feb. 23, 2020, joined a bigger national conversation about racial injustice and the murders of Black persons who were not carrying weapons, like George Floyd in Minneapolis and Breonna Taylor in Kentucky. The Justice Department also filed federal charges in those two instances.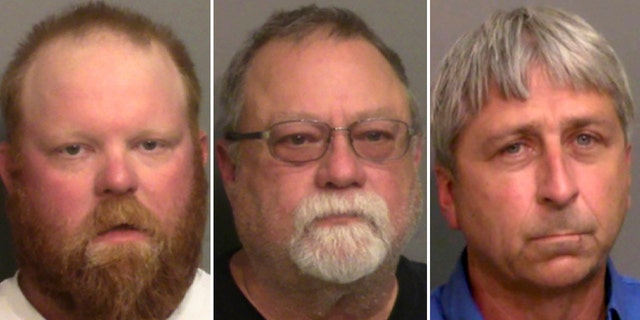 This combo of booking photos provided by the Glynn County, Ga., Detention Center, shows from left, Travis McMichael, his father Gregory McMichael, and William "Roddie" Bryan Jr. (Glynn County Detention Center via AP)