Here are the top headlines from Fox News Flash. See what people are clicking on FoxNews.com.
NEW Fox News articles can now be heard on audio! Sen. Joe Manchin and Senate Majority Leader Chuck Schumer reached an agreement on a social spending and tax measure, but it is still unclear whether Sen. Kyrsten Sinema, a crucial moderate, will back it.
The bill will be discussed by Manchin, D-W.Va., and Sinema, D-Ariz., on Monday in the Senate. However, according to her office, the senator's decision about her vote may take some additional time.
According to a representative for the senator, "Sen. Sinema does not have comment as she is examining the bill text and will need to see what comes out of the parliamentarian process."
With the Senate split 50-50 and Republicans banding together to oppose the Manchin-Schumer package, every vote will be crucial for Schumer, a Democrat from New York, and his slender majority to pass it.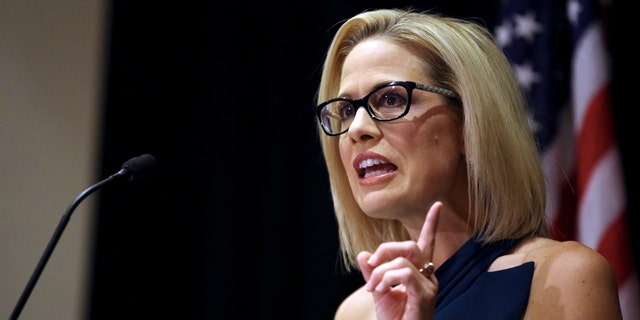 Sen. Joe Manchin and Majority Leader Chuck Schumer reached an agreement on a social spending and taxation plan, but Sen. Kyrsten Sinema hasn't stated her position on it. (Caitlin O'Hara for Reuters)
That indicates that Washington is anxiously awaiting her decision on what could be the Democrats' final and best opportunity to pass a social spending plan before the midterm elections. Sinema's statement might not happen until later in the week because to the complexity of the legislative procedure her spokesperson indicated, prolonging the drama.
Republicans and Democrats will argue this week before Senate Parliamentarian Elizabeth MacDonough over whether specific provisions of the plan comply with the Byrd Rule. The Byrd Bath is the name of that procedure.
According to that rule, items in a reconciliation bill—the method Democrats are employing to avoid the 60-vote filibuster—should generally have an impact on government spending or revenue.
Which provisions fall under the meaning of "extraneous matter" in the rule will be decided by McDonough. Although the Senate technically has the authority to overrule the parliamentarian, prominent legislators have not made any indications that they intend to do so.
It's possible that the process won't be finished until later in the week because the parties must argue over a bill that is hundreds of pages lengthy.
That suggests that it might take Sinema a few days to declare her final stance, which could either destroy Democrats' prospects of a significant legislative success or propel them to what might be their biggest victory yet.
For Fox News Digital, Tyler Olson covers politics. Tyler Olson can be reached at tyler.olson@fox.com. You can follow Tyler Olson on Twitter at @TylerOlson1791.