NEW Fox News articles can now be heard on audio! SECOND ON FOX: On Tuesday, House Republicans demanded more information from the Biden administration over the administration's "very worrisome" policy that permits illegal aliens to board aircraft using civil arrest warrants and other related paperwork as ID.
Representative Andy Biggs, R-Ariz., and a group of 20 other Republicans have written to Secretary of Homeland Security Alejandro Mayorkas asking for clarification on the Transportation Security Administration's policy that permits illegal immigrants to use civil immigration arrest warrants and deportation orders that are not on the list of acceptable forms of ID.
The letter, which Fox News Digital received, states that "These materials are not secure documents and can readily be falsified, copied, or otherwise manipulated." "It is incredibly concerning that TSA is allowing illegal aliens to use nonsecure documents as IDs to board planes given the fact that American people are constantly being told that their IDs will soon need to be REAL ID compliant to board an airplane."
DHS has previously stated that it accepts notices to appear, civil arrest warrants (which are immigration records distinct from criminal arrest warrants), orders of release on recognizances, orders of supervision, and other documents as ID to board aircraft if migrants do not have other typically accepted ID.
TSA Chief: Only 1,000 illegal immigrants with warrants as identification have been permitted to board planes.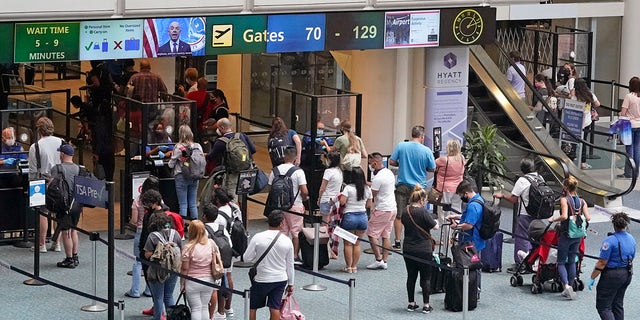 At a Senate hearing last month, TSA Administrator David Pekoske was questioned about how many people who had arrest warrants or deportation orders had been permitted to travel.
Pekoske responded to Sen. Josh Hawley, R-Mo, "Under 1,000 sir."
On Tuesday, the House Republicans expressed skepticism about that figure.
Given that DHS has admitted approximately 500,000 illegal aliens into the country thus far this year, they stated, "This number seems incredibly low."
REPS MALLIOTAKIS AND DAVIS PRESENT A BILL TO PREVENT THE TSA FROM ALLOWING IMMIGRANTS TO BOARD PLANES USING WARRANTS.
by Fox News
The TSA has maintained that further vetting is required during the procedure. Pekoske stated at the Senate hearing that the delivery of a warrant signaled the start of an additional vetting procedure.
It is not possible to approach a checkpoint, wave a form, and then proceed directly into screening, he explained. "These individuals who have these arrest warrants, these arrest warrants were issued by Border Patrol or a customs officer, and they serve as a beginning of our identity verification process."
The organization has stated in the past that any such document will then be verified using a "alien identification number," which entails checking personally identifiable information against a number of Customs and Border Protection (CBP) databases, including the CBP One mobile application and TSA's National Transportation Vetting Center (NTVC).
The 24 House Republicans, however, contend that illegal immigrants should be deported rather than brought farther into the United States, despite the fact that this process has not given them any peace of mind.
They argue that it is an insult to all law-abiding, tax-paying Americans that U.S. public money is being utilized directly or indirectly to finance the transportation of illegal aliens throughout the nation.
Instead of utilizing public money to transport illegal immigrants, DHS should invest that money in expanding its detention facilities so that it can hold those individuals as long as is necessary to comply with the law.
Hawley had before questioned Pekoske as to why he would even permit illegal aliens on planes.