WASHINGTON A former member of the far-right group testified during a seditious conspiracy trial on Thursday that the founder of the Oath Keepers had mentioned being in contact with a Secret Service agent in the months prior to the attack on the U.S. Capitol on January 6, according to testimony from the former member.
Former Oath Keepers member John Zimmerman testified that Oath Keepers founder Stewart Rhodes told him he had a contact in the Secret Service and that, in September 2020, just over three months before the attack on January 6, 2021, he overheard Rhodes speaking with someone he thought to be a member of the Secret Service. The alleged conversation was made just before a Trump rally in North Carolina, where Zimmerman served as a county leader for Oath Keepers before quitting.
According to Zimmerman, Rhodes called the unidentified person to inquire about the limitations the Oath Keepers may work under during the event. He claimed that Oath Keepers were present at the protest to accompany participants from the rally site to their automobiles.
Zimmerman added that based on the questions Stewart Mr. Rhodes was posing, it might have been a Secret Service agent.
A Secret Service spokeswoman responded to a request for comment by saying: "We are aware that Oath Keepers members have gotten in touch with us in the past with questions.
The spokesperson added in a statement, "As part of our protective role, we will prepare an overall security strategy, including traffic and crowd management protocols for places where a protectee is planned to visit. As part of this effort, many groups frequently get in touch with us to ask about security restrictions and legal activity around our protected areas.
No weapons of any sort are allowed inside of a Secret Service protected site or venue, the spokesperson said, adding that only sworn law enforcement officers who are actively engaging in the security plan are authorized to have weapons at these places.
Rhodes attempted to contact President Donald Trump through an intermediary on the evening of January 6 after the Capitol attack, according to testimony from another member of the Oath Keepers, one of three who pled guilty to seditious conspiracy. Who was on the other end of the phone call remains unknown. According to NBC News, Kellye SoRelle, a different Oath Keeper, spoke with Andrew Giuliani, a former White House employee, in November 2020.
Zimmerman recounted being dissatisfied with the lack of organization during an Oath Keepers meeting while they were attempting to relaunch a state chapter. After Trump's election loss in November 2020, he eventually became the county chapter leader of the Oath Keepers and traveled to the Washington, D.C., region with other members of the group for the Million MAGA March.
On Thursday, Zimmerman gave a witness statement in the seditious conspiracy trial of Thomas Caldwell, Kelly Meggs, Kenneth Harrelson, Jessica Watkins, and Rhodes. The trial is expected to last five or six weeks and is the Justice Department's largest challenge to date.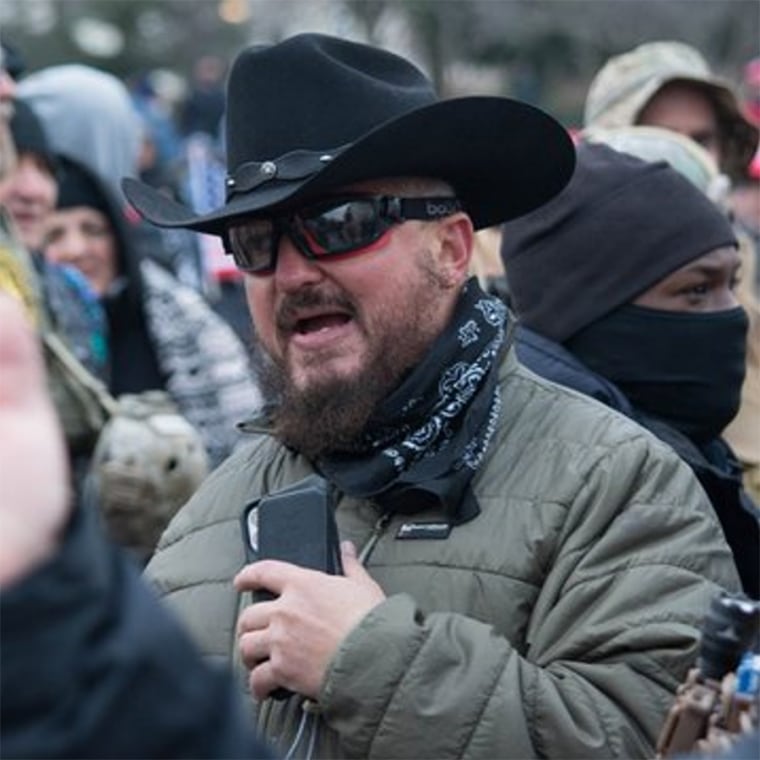 According to evidence provided by the prosecution, Rhodes frequently referred to the Insurrection Act and stated in a call that was recorded in November 2020 that a "quick reaction force" that had been assembled outside of Washington for the November rally would enter the city only if Trump used the 1807 law to call militias to his assistance. The act is meant to assist a president put down a civil disorder, insurrection, or rebellion. Zimmerman stated that although he didn't believe Rhodes had a direct line to Trump, he did believe Rhodes had a connection to the Secret Service, and that is how the Oath Keepers may learn that Trump had used the Insurrection Act.
According to the prosecution, Rhodes' allusions to the Insurrection Act in connection with January 6 served only as "cover" for the Oath Keepers scheme. Michael Adams, another former Oath Keeper, revealed during his testimony on Thursday that he left the organization in December 2020 after it published open letters urging Trump to use the Insurrection Act. Oath Keepers, according to one of the letters, would have "mission-critical equipment is stashed nearby, just outside of Washington, D.C., and if you call on us, we would respond immediately.
At the trial, Zimmerman claimed that the November trip caused him and other North Carolina-based Oath Keepers to fall out with the national chapter.